April 26: March Forth 41

Beginning its 5th decade opening rallye season! Still rallyemastered by Diane Rosone, it will feature a short course, no-nonsense logical gimmicks, no checkpoints, and of course, donuts at the starting point! We will again see the 3 instructions at a time in operation, challenging to the pros and easier for newcomers to understand. Come and enjoy the new surprise goodies at the starting point, a long-standing March Forth tradition. Ending at Garibaldi's in Hoffman Estates.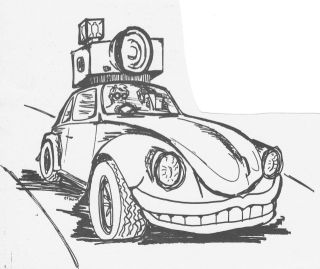 June 22: PICTURE THIS – The Great Summer Tour Rallye

The First Full Day of Summer
A tour rallye of the north and northwest suburbs where you will be using photos to either complete route instructions or to answer questions. Don't relax to much there will be an occasional trick to keep you on your toes. This rallye is a perfect way to start your summer.


August 9: Rallying IS a Sport! aka FOD 21
A rallye about the sport of rallying - NCAA College Basketball
Kevin Costly had so much fun this year at March Madness, we thought we'd commemorate it in 2014's Field of Dweebs. It was the year of the underdog, as seeds numbered 7 and 8 faced each other in the tournament final! The rallye will feature a short course, some devious gimmicks (Keith's favorites), finding College basketball terms, and a fun tie-breaker.

October 26 (SUNDAY): WHOOSH WITCH 47 – The 47th edition of the longest-running Halloween rallye in Chicagoland transports you to the colorful cultural backwater of Bon Temps in Renard Parish, Louisiana – ground zero for "Vampire Porn". Sookie Stackhouse needs your help to deal with the menagerie of "Supes" (supernatural creatures) that have taken over her beloved small town. Match wits with Vampires, Werewolves, Shape Shifters, Faeries, Demons, Brujos, Cajuns, and of course Witches. The rallye runs in full daylight, for most vampires cannot stand the sun, even though they can now feed on True Blood instead of the human variety. We encourage you to wear costumes, whether "True Blood" themed or not, with trophies for the best adult and best child costumes.

November 16 (Sunday): UNrallye 51 - Not a Gimmick rallye, this is the 51th running of The Mother of All Point-to-Point Rallyes. Laurel Paskus and Robin Schmidt are your rallyemasters this year. With this rallye, you do not follow Route Instructions, but plot your own course from one point to another on a map that we provide, answering questions at each point to prove you were there. Whoever visits the most points wins, and late penalties are high, so this is as close to a race as you'll ever get on the rallye circuit. This year you can see where you are going on a nice Fall afternoon.

contact us: SendMeInfo@brandxrallyerteam.com
MARK YOUR SMARTPHONE OR iPAD'S - WHOOSH WITCH WEEKEND DATES THRU 2030
10/25/2015
10/30/2016
10/29/2017
10/28/2018
10/27/2019
10/25/2020
10/31/2021
10/30/2022
10/29/2023
10/27/2024
10/26/2025
10/25/2026
10/31/2027
10/29/2028
10/28/2029
10/27/2030